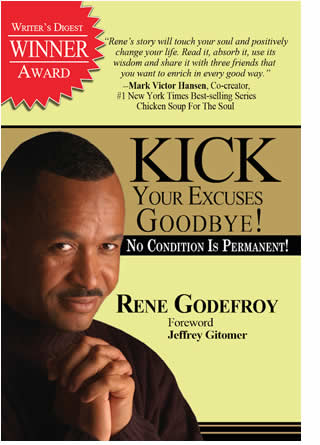 You are about to discover how to kick your excuses goodbye and say "hello" to your dreams. Thousands the world over have already benefited from this life-changing and heart-tugging message.
Now it's your turn! Maybe you are an individual who is tired of struggling, and you want to change your life. Or, you're an entrepreneur who needs a kick in the pants to step out and make it happen. Perhaps you are a salesperson who wants to double or triple your sales; this book is for you.
Steady your feet and brace your mind for a wake-up call that will take you on the journey that is sure to change your life.
This eye-opening book will inject you with a dose of can-do and bull-dog-tenacity attitude to "Kick Your Excuses Goodbye." It will remind you that No Condition is Permanent.
Rene Godefroy doesn't just talk about success by using empty cliches. He's done it. More importantly, he can help YOU do it, too. Here's why:
Born in a tiny and isolated village on the island of Haiti, Rene was an impoverished child tormented by illness.
Abandoned by his father and left behind while his mother sought work in the city, he survived on breadfruit and the occasional fish he caught with a string and hook.
He arrived in the United States with five dollars, two shirts and one pair of pants housed in a tattered briefcase. Worse, he did NOT speak any English.
Many would make excuses and see the odds stacked against them, but Rene saw opportunities and a chance to pursue the American Dream.
As a self-made man, Rene used his survival skills and natural instincts to defy the challenges ahead of him. He taught himself English one word at a time and read voraciously.
As his knowledge increased, his quality of life improved. And he dared to stand up on platforms across North America to urge many to kick their excuses goodbye.
Today, as one of America's most sought-after success strategist, Rene is renowned both nationally and internationally. His advice on achieving success has graced the ears of thousands!
Armed with a passionate story and a compelling vision to transform lives, Rene exemplifies the essence of resilience!
AT&T, Coca-Cola, And Charles Schwab are among the many companies that have sought Rene's winning ideas to impact their bottom line and inspire their teams to accept that no condition is permanent.