Motivational & Inspirational Books, DVDs, and CDs
Kick Your Excuses Goodbye – Paperback?
This is the flagship book that is transforming lives the world over. If you have any doubt in your head about whether you have what it takes to succeed, this book will wipe out those doubts for you. You will quickly get rid of your excuses and start taking action. Most never accomplish anything because of justifications and excuses. $15.00 + Plus Shipping & Handling
Negative People Book – Paperback?
Stop negative people from ruining your life and career. Protect your mind from their poisonous attitudes. Within the pages of this book, you will discover the exact strategies Rene taught people all over the world to enjoy a good life with less conflicts and stresses. Your life will never be the same after reading this book. Promise. $10.00 + Plus Shipping & Handling
6 CD Set Book On Tape – Listen While Driving, Jogging, Or At The Gym!
Most people are too busy to sit down and read a book cover to cover. Now, you can Listen to Rene Godefroy reading his entire book unabridged while you are driving to and from work. Turn your commute time to learning time. This is the kind of inspirational boost you and your family need every day. This 6 CD set is our best-seller! $39.00 our best-seller! + Plus Shipping & Handling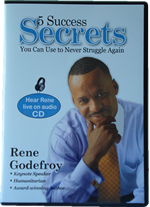 5 Success Secrets Revealed Audio CD
Since his constant battle with diseases and poverty in a tiny Haitian village, Rene Godefroy has been applied 3 fundamental success secrets that have catapulted him in the big leagues and create the lifestyle he wants in America. Now, you, too, can use and apply them daily to get the results you want. $20.00 + Plus Shipping & Handling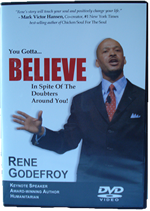 DVD – Video Presentation Live
Sit down on your comfortable couch after a long day of dealing with stresses. Then put this DVD and gather your family to be inspired and fired up. This message will awaken something in them to kick their excuses goodbye and start taking immediate action to live their dreams. This is a classic you want to have in your video library for years! $29.00 + Plus Shipping & Handling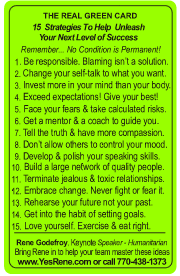 The Real Green Card
After Rene received his US Citizen certificate, he wanted to keep my green card as a souvenir.  They would not allow him. Rene was disappointed. A few years later he decided to print his own Green Card. Side #1 has the 15 strategies to help unleash your next level of success and Side #2 has the Optimist Creed on it. $6.00 + Plus Shipping & Handling