Beyond wildest Dreams: Former Doorman Now a hit as Motivational Speaker
By Tucker MCQueen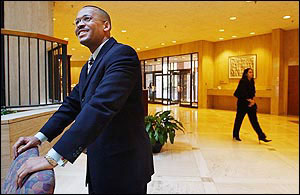 The doorman at the upscale hotel noticed everything about the people he greeted. René Godefroy saw himself as a sponge absorbing how guests dressed, how they carried themselves and how they talked. He had lessons of his own to teach and believed his story of escaping a life of poverty in Haiti would inspire people to make changes in their lives.
He thought his job at the hotel would give him the polish and the connections he needed to make it as a motivational speaker. His job as a doorman was a remarkable accomplishment, considering his early years in an impoverished village without electricity or plumbing. He said the people there thought the one they called the crippled boy would not survive his childhood. But as far as he had come, Godefroy saw his job at the hotel as a step toward his goal of becoming a writer and speaker. After 10 years of opening doors and parking luxury cars, the Smyrna resident is now making a name for himself on the speakers' circuit.
This month, he has told his story to business and civic groups in six cities from Boston to Miami. His book, "No Condition is Permanent," is doing well in local bookstores, and he has appeared at three book signings in Cobb County and Atlanta. " My life is beyond my wildest dreams," Godefroy said.
"Three years ago, I was a doorman. Now, I am riding in the back of limousines and staying in big hotels." But Godefroy, 41, said his success has sometimes jogged bittersweet memories. When he spoke at a business convention in Jamaica two years ago, he saw children asking for money.
He remembered begging for pennies as a child outside hotels in Port-au-Prince and wondering what it was like inside. " During my talk, I reminded them about the children outside," Godefroy said." I told them that I had been on the other side of the fence. I knew what they were thinking."
Recalling his first day at the Waverly, Godefroy said he was amazed at the hotel's 14-story atrium. He remembers thinking, "I am finally inside." Godefroy left the village where he was born after seven years to live with his mother in Port-au-Prince, the capitol.
As bleak as his childhood was, Godefroy said he always knew that he would find a way to America. His break came at 20 when a drama troupe he belonged to toured Canada. After a performance, he left the group with $5 and a small valise.
He smuggled himself across the border by wedging himself on a small platform above the wheels of a truck. A cousin helped him move to South Florida where he washed cars and did odd jobs. He learned English by reading children's books in the library and studying menus in fast-food restaurants.
Every day, Godefroy wrote three words on his hand and memorized them. After seeking political asylum and becoming a naturalized citizen, he moved to Atlanta to find a better job. When Herman Gammeter hired Godefroy to work at the hotel, he recalled his own journey.
Gammeter saw the same spark and determination he had when he came to the United States from Switzerland 40 years ago. Now area general manager of the Renaissance Hotels, Resorts and Suites, he remembers arriving in America with only $25 and a return ticket.
He said those memories encourage him to advise employees from other countries. " I couldn't speak English and could only find work as a fry cook. Now I am senior vice president of the company," Gammeter said. "I help people like René because I know what they can do."
Robert Hampton, senior doorman at the hotel, saw the same promise in his young protégé. Hampton has offered Godefroy advice and guidance, and refers to himself as Rene's "play father." " So many young people waste the chances given to them," he said. "René didn't have these opportunities and look what he has done.
" Godefroy hopes his story will serve as more than an inspiration to others. Several years ago, he started the Village Hero Foundation to raise money to help children in the village he lived in as a child. He has gone back to Haiti to help organize a medical clinic and would like to start a school there. "
I have always told myself that the culmination of small virtues makes a big victory. I never thought about giving up," he said. "When there is blood running through your veins, there is always hope."