Resilience Keynote Speaker
A Soul-Stirring & Inspirational Keynote to Ignite Your Team and Boost Morale
For the last 20 years, I've been on a mission to help individuals and organizations rewrite their stories and achieve success. My process is simple: I help my clients change the way they think about change and their circumstances.
I know this firsthand because I lived it. I came from poverty and disease in a small village in Haiti. But with my sheer determination and the willingness to embrace change, I've achieved my own version of the American Dream.
Now, I'm empowering others to do the same. I give them a blueprint to reformat their mindset and change the stories they tell themselves.
I'm ready to join forces with you to fire up and energize your team, so they can win big in spite of their challenges! Let's make it happen!

Aflac
"Rene Godefroy was our keynote speaker last week at our Aflac Kick-off meeting in Tennessee. He was a big hit. He was motivational, entertaining and kept the audience engaged the entire time, which is rare for a speaker. People are still talking about his performance. I would highly recommend Rene to speak at your next event. "
– Alan Martin
, State Training Coordinator
★★★★★
Coca Cola
"Your fascinating story was not only inspiring, it provided a great foundation for our mentors and mentees as they begin setting goals and establishing expectations for their new partnerships."
– Jerry S. Wilson. Vice President
★★★★★
Conserve
"Rene spoke at the Florida Bursar's Conference last year and set an encouraging tone for the entire event. I highly recommend him as a Keynote speaker for any organization. He will provide a springboard for a new attitude toward learning, hard work, and gratitude."
– Ed Nolan, Director of Business Dev.
★★★★★
► Aflac
► AT&T
► Alere
► Atlanta Apartment Assn
► Blue Cross Blue Shield
► Burba Hotel Network
► Charles Swabb
► Coca Cola
► Cox Enterprises
► Domino's Pizza
► Florida League of Cities
► GE Capital
► Georgia Power
► Georgia Dept of Human Resources
► Georgia State University
► High Point University
► Housing and Urban Development
► Hyatt Hotels Corporation
► Indiana Bankers Assn.
► IHG Hotels Group
► Indiana School Food Assn.
► Isakson Living
► Kennesaw State University
► Napoleon Hill Foundation
► Marriott Hotels
► Michigan Works
► Matria Health Care
► Metro PCS
► Michigan Assisted Living
► Mississippi Transportation Ass
► Ntl. Interstate Council for Cosmetologists
► North Fulton Chamber of Commerce
► Pennsylvania Housing Finance
► Proof of the Pudding
► Renaissance Hotels SACUBO
► The Providence Journal
► UnionPacific
► Railroad Company
► US Army
► US Postal Service
► Verizon Wireless
► Your Event Solution
► Wood Buffalo Regional Municipality

The Rene Godefroy Show is where you get career, business, and wealth strategies to achieve massive success.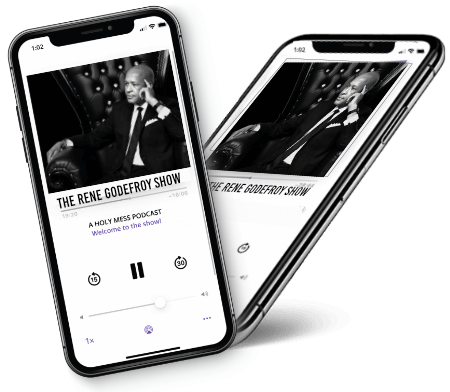 "Your circumstances are not your destiny. You have the power within you to rewrite the story you're telling yourself."
– Rene Godefroy
Rene has inspired thousands to stretch, push beyond their limits in spite of their fears and doubt. His story of grit, perseverance, courage, and growth through change has helped thousands overcome their challenges, and boost morale.