The Most Requested Keynote To Boost Morale During Times Of Difficult Change In The Workplace 
No Condition Is Permanent
A 3D Blueprint For Thriving Through Change In The New Economy
This keynote presentation is based on proven scientific research to switch the brain on for resilience during times of difficult change. Rene combines insights from a poverty and diseased life in a Haitian village and years of inquiry into the psychology of human achievement.
The goal is to empower the audience so that they can embrace change without fear and stresses. No condition is permanent.
What's Covered…
#1 DRIVE: Drive is the commitment to carry along by force in a specified direction in spite of the roadblocks. Simply put, drive is velocity. And without velocity, there's no energy.
In this segment, Rene shares some scientifically proven ways to rewire the brain for resilience. It's about accessing the right levers to move any mountain out of their way.
#2 DUPLICATE: Engineering spectacular success is not reserved for the privileged. If it's possible for anyone, it's possible for everyone.
For thousands of years, every invention and technological breakthrough is a model designed upon a previous one. Most people struggle because they keep reinventing the wheels.
In this segment of the keynote, Rene reveals his SDI (Strategic Decoding Inquiry) formula. It's a powerful way of modeling success with precise accuracy.
#3 DEFEND: At a basic level, everything is energy. We are always generating and broadcasting energy – positive or negative. Without energy, there's no life.
Many years ago, one Indian guru said, "Environment is stronger than willpower." The field of neuroscience has many verifiable types of research to back that statement.
The people we meet, shake hands with, spend times with do influence our energy – negative or positive. If it's negative, then it is our job to access our internal power to influence their energy instead of the other way around.
In this segment, Rene will share with the attendees his Gateway Trifecta Formula to generate high energy and a positive attitude on command.
Key Takeaways…
How to transform failures into feedback to initiate change and take a new course
How to intentionally turn on your motivational switch so you can draw the right opportunities unto you
How to precisely decode any success and adapt it to your personality to get anything you want
How to fire up the right electrical circuitry in your brain to boost your self-worth and self-confidence
How to use the Pavlov method to reframe negative emotions so you can elevate your moods
How to use the concept of disassociation to make sure problems and difficult times happen for you and not to you
How to discover the invisible drivers that are the real cause of success instead of focusing on the effects
How to protect your mind from energy vampires so you can experience joy and happiness
How to influence others and inspire them to reach for their best
WHO IS THIS FOR?
This is for anyone who aspires to be a rock star in any field, especially salespeople and entrepreneurs.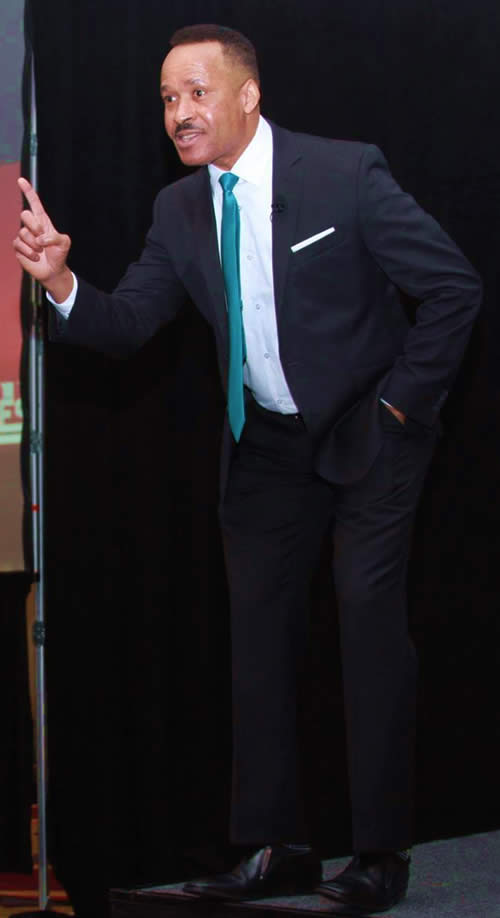 "Rene Godefroy was our keynote speaker last week at our Aflac 2016 Kick-off meeting in Tennessee. He was a big hit. He was motivational, entertaining and kept the audience engaged the entire time, which is rare for a speaker. People are still talking about his performance. I would highly recommend Rene to speak at your next event. " 
— Alan Martin, 
State Training Coordinator Aflac