REWRITING STORIES AND FORGING FUTURES
CAPTURE YOUR PURPOSE

YOUR DESTINATION IS NOT FINAL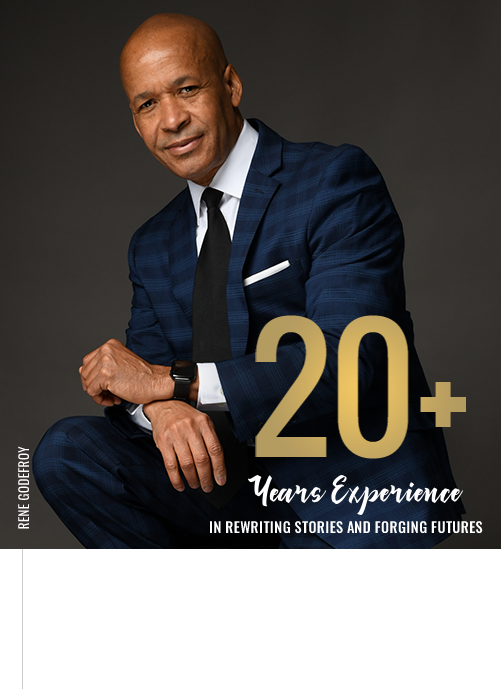 IT IS MY HONOR TO SERVE YOU
TO FULFILL YOUR DESTINY.
For the last 25 years, Rene has been helping leaders in large corporations to empower their underdogs, so they can be more , confident, and optimistic during tough times.
His expertise is from personal experiences in the trenches and 20 years of research on the science of resilience and grit.
His journey started as a poverty and diseases stricken kid in a tiny village in Haiti. Rene arrived in the US with $5, two shirts, one pair of pants and unable to speak English.
Rene has rewritten his own story and forged his future and now speaks on global stages influencing millions of people around the world to do the same.
WHAT PEOPLE ARE SAYING ABOUT RENE GODEFROY
COMPANIES RENE HAS WORKED WITH




FEATURED VIDEOS
RENE GODEFROY
How to get what you want in
life
How to develop your personal power to
get unstuck
Your self worth is
priceless
REWRITING STORIES AND FORGING FUTURES
RENE GODEFROY TRAINING
Interested in being mentored by Rene- START RIGHT NOW
CHANGE YOUR FUTURE
Rene has inspired thousands to stretch, push beyond their limits in spite of their fears and doubt. His story of grit, perseverance, courage, and growth through change has helped thousands overcome their challenges, and boost morale.
RENE GODEFROY INC. SPEAKERS ACADEMY
START SHOWING UP AS THE PERSON
YOU ARE MEANT TO BE

PILLAR 1
A

NXIETY

The problem that worries your potential client.

PILLAR 2
S

OLUTION

Your uniqueness/superpower to transform lives.

PILLAR 3
S

YSTEM

The business structure to deliver your solution.

PILLAR 4
E

XPOSURE

The omnipresence effect authority positioning.

PILLAR 5
T

RUST

Your authenticity and the extra mile principle.

LATEST NEWS
EDUCATING YOU FOR YOUR FUTURE