Meet Rene Godefroy - The Inspirational Story That's Changing Lives
The man who is inspiring millions to push beyond their comfort zone.
"Rene is the best keynote presenter in our 35 years of sponsoring conferences." —Robert L. Stein, General Counsel Michigan Assisted Living Association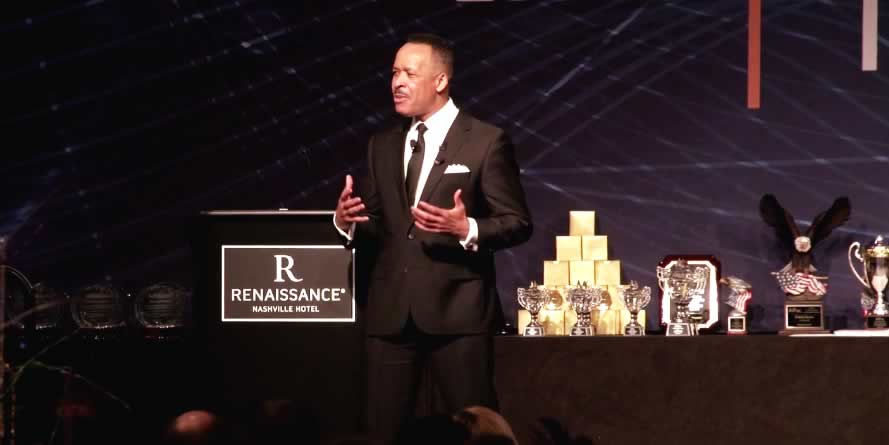 Rene Godefroy's hard-hitting ideas challenge individuals to embrace change and stretch beyond their comfort zone. His energetic, humorous, innovative presentations and style of delivery leaves his audiences ready to take immediate action to improve their condition.
A best-selling author, Rene's book Kick Your Excuses Goodbye shows his readers a path to create the success they want and deserve.
His compelling story, anecdotes, and examples strike a chord and touch the hearts and minds of his listeners. It's a transformation signature story about determination and personal accountability.
Born in an isolated village in Haiti, Rene was an impoverished child tormented by illness. Many of the villagers predicted he would not survive. But Rene refused to give up and buy the script they wrote for him.
At the age of 21, he arrived in the US with only five dollars, two shirts and one pair of pants housed in a tattered briefcase. Most people around him chose the moaning-and-blaming game to justify their miserable situation. Rene chose personal responsibility and accountability.
He decided to do something to change his situation. As he often says, "When you change, your situation automatically change."
The tallest mountain Rene had to climb was learning how to speak English. He conquered that mountain one word at a time. He creatively learned English through picture association with children's books.
While a janitor, he collected correspondences from the trashcans to learn to format and writing letters. Rene tells his audiences, "In a way, the trashcan was my first mentor and teacher. Are you taking advantage of the learning opportunities your organization offers?"
Where many would see nothing but overwhelming odds stacked against them, he saw an abundance of opportunity in a country of plenty. He believed nothing could hold him back except for himself. Instead, Rene embraced the freedom to pursue the American Dream. However, he knew it was going to be a LONG shot.
In the first few years, he peddled the streets of Miami with a bucket and a bottle of dishwashing soap begging business patrons to wash their cars.
He later moved to Atlanta, Georgia where he acquired his LPN certificate. He took a job as a caretaker for a prominent businessman who taught him how to win in business.
Finally, Rene landed a doorman job at an upscale hotel, the Waverly Renaissance. There, he began to model the successful people who came for meetings.
He bought and devoured every personal development book he spotted on the back seat of the cars he was parking. He also learned how to dress for success by carefully observing their attires.
Today, Rene is a best-selling author, a highly sought-after motivational speaker, and humanitarian.  He continues to remind his audiences that No Condition is Permanent if they are willing to embrace change and model the successes of others.
Contact us today for more information about availability. Fill out the form below. Or call us at 770.438.1373
Ready to explore the possibility of booking Rene for your event? Call 770.438.1373 or fill out the contact form.