THE JOURNEY BEGAN HERE
Rene Godefroy empowers employees and entrepreneurs all over North America to embrace change and do more with less.
His story is proof that success is NOT about resources. It's about being resourceful and creative. It's about the conviction to charge ahead in spite of the challenges and critics.
Rene is an acclaimed keynote speaker and a best-selling author. But, most people know him as an ordinary man with an extraordinary message that is transforming lives.
His message is simple: "No Condition is Permanent!" It's about embracing change, reinvention, perseverance, and the renewing of minds.
"Change is innovation seeking attention. It is not a stress generator. It's the story we concoct in our head about it that makes it stressful." Says Rene.
Born in dismal and deplorable poverty in a tiny Haitian village Haiti, Rene is a testimony that No Condition is Permanent.
He knows firsthand what it takes to rise from the ashes and begin a new cycle. He tells us that mind is the only leverage we have to lift ourselves above our tough situations.
Nine months after his birth, his mother left him behind in the village. She bravely ventured to the city – Port-au-Prince.
She was hoping to find a better way to break the cycle of misery and poverty. Right after she left, several deadly diseases pounded Rene and vowed to end his existence.
Many of the people in the village wrote him off. They predicted he would not survive. Some teased and ridiculed him. They called him "kokobay" – a Creole word that means crippled.
During daylight, he would spend his days on the dirt floor fanning flies off his face. At night, he would shoo away the mosquitoes. Those were the dark nights of his soul.
However, they are what endow him with the internal fortitude and the certainty to keep pressing on.
Now, Rene urges his audiences never to cower and walk away from their challenges. He empowers them to access their personal power to face whatever comes their way with internal fortitude.
He tells his listeners, "You can thrive through this change. You already know how to solve all your problems. The solutions are within you. Stay with it."
CLICK HERE NEXT: HE LEFT THE VILLAGE
At the age of seven, Rene arrived in Port-Au-Prince to reunite with his mother. He met his sister and brother for the first time.
Together, the family lived in a tiny one-room basement infested with rats and roaches.
There were those who were living opulent and luxurious lives alongside the country. But Rene's environment was demoralizing. There, the people were living lives of resignation.
Fortunately, an encounter triggered a new way of looking at life for Rene. It ignited a glimpse of hope in him.
One day, as a little boy, he was walking behind the American tourists begging for spare change.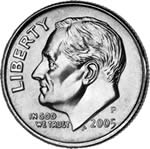 One American couple from the US gave him a dime, and they touched him with compassion. It was as if the couple sent him a silent message about hope.
A dream was born in his heart. He said to himself, "One day, I want to go to the United States. I'm going to eat lots of rice and chicken."
Although Rene didn't know how he was going to make it, he continued to remain hopeful.
Without hope, there's no life. Rene knows and understands every time he hits the stage; there's an opportunity to ignite the flame of hope in his listeners.
We all have the responsibility to cheer and brighten someone's day. We have to breathe new hope in others so they can carry on.
CLICK HERE NEXT: NEW LIFE IN THE UNITED STATES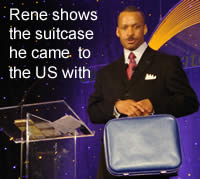 Yes! Positive thinking and a hopeful attitude scooped Rene out of his dismal situation.
At the age of 21, he made his way to the United States. Miami was his first stop. His personal possessions were one pair of pants, two shirts, and five dollars.
He didn't speak ANY English.
Without any resources or connections, the road ahead seemed almost impossible.
But Rene heard about the American Dream. Someone told him that dream was possible for anyone who's willing to pay the price. That got his attention. He decided to do whatever was necessary to seize that dream.
But first thing first.
Rene set out to learn English. He wrote three new words on his hand every day. He repeated them over and over until they stuck.
In Miami, he tried to get a job. But no one would hire him because he didn't speak English. So, he decided to create his own opportunity.
With three dollars in his pockets, he bought two used towels, a bucket and one bottle of liquid soap.
He then began to peddle the streets of Miami looking for cars to wash.
His first stop was at Total Bank in South Florida. He asked the bank's employees to let him wash their cars.
He faced many rejections. But, he refused to accept no for an answer. He refused to allow those rejections to bruise his ego and self-esteem.
"I had to keep going through those rejections. I had to keep knocking on the doors. Meanwhile, I imagined the sound of 'yes.' My life depended on it." Says Rene.
Rene kept asking until he heard the sweet sound of yes. Then another person said yes.
The reality is, success is what happens in between rejections. You have to dig through them to get to the gold.
CLICK HERE NEXT: THE DOORMAN JOB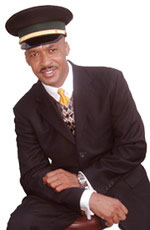 According to Rene, the path to the American Dream seemed longer in Miami.
Three years later, Rene moved to Atlanta, Georgia. He also realized that he need to reinvent himself. The skills that got him of poverty in Haiti was not enough to reach the American Dream.
In Atlanta, he found a job at a Kmart warehouse to load trucks. One year later, he found another job to be a caretaker for an elderly man. And finally, he landed a doorman job at a luxury hotel.
While parking cars at the hotel, Rene noticed books about success on the seats.
Something clicked for him. He concluded if he reads those same books, he, too, can be successful.
He jotted down the titles and bought them all. One by one, he devoured every word on the pages.
He says, "I was not reading those books, I was studying them."
Rene read books by Peter Senge, Edward Deming, Peter Drucker, Tom Peters, Stephen Covey, and others. He also read many biographies of those who changed the course of history.
The lesson here is to ask yourself what you are doing to reinvent yourself. The skills that got you to where you are are not enough to get you where you want to be.
CLICK HERE NEXT - THE AMERICAN DREAM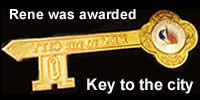 After spinning his wheels in the US, Rene finally discovered the knowledge and skills to soar to the top.
Today, Rene is a highly sought-after keynote speaker. He is also the author of the bestselling book Kick Your Excuses Goodbye.
He has appeared on 60 minutes show along with Colin Powell, Zig Ziglar, and Anthony Robbins.
He commands significant fees for his "No Condition Is Permanent!" message.
The City of Smyrna, Georgia, where he now resides declared a day as "The Rene Godefroy Day." The mayor of Fort-Lauderdale, Florida honored him with a Key to the City.
The Atlanta Journal-Constitution calls him a "motivational hit." And, the Miami Times calls him a "motivational guru."
AT&T, Aflac, Coca-Cola, Verizon, and Hyatt Hotels are a few of the top companies that book him to boost morale and fire up their teams.
CLICK HERE THE HUMANITARIAN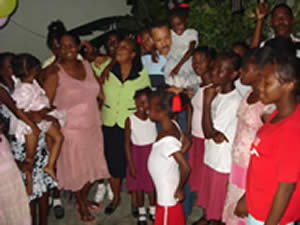 Rene never forgets his roots. He believes everyone on the planet has access to the fullness of the earth. God is no respecter of persons.
His personal mission in life is to empower millions to awaken the power within those who are living below their full potentials.
A humanitarian at heart, he founded The Rene Godefroy Foundation —a non-profit 501c3 company.
He wows to ignite hope in poor children in remote villages in Haiti to rise above their circumstances.
When you book Rene to speak at your conference, you are also helping those children. A share of his fee goes toward funding his projects.
"When all your wantings are about edifying and uplifting others, all your wants beg to come to you," says Rene.